€1149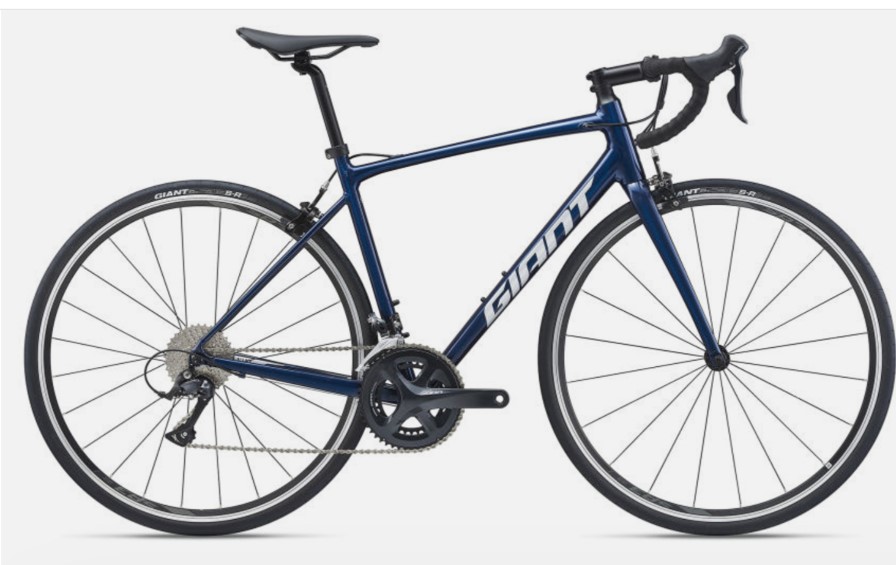 Smooth, fast, and fun. This versatile aluminum road bike has been revamped to give it a well-rounded performance ride quality.

It's the perfect choice to help you push the pace, ride more miles, and expand your road riding experience.
SizesXS, S, M, ML, L, XLColorsMetallic Navy, WhiteFrameALUXX-Grade AluminumForkAdvanced-Grade Composite, full-composite OverDrive steererShockN/AHandlebarGiant ConnectStemGiant SportSeatpostGiant D-Fuse, alloySaddleGiant ApproachPedalsN/AShiftersShimano SoraFront DerailleurShimano SoraRear DerailleurShimano SoraBrakesTektro TK-B177Brake LeversShimano SoraCassetteShimano CS-HG400, 11x34ChainKMC X9CranksetShimano Sora, 34/50Bottom BracketcartridgeRimsGiant S-R3 wheelsetHubsGiant S-R3 wheelsetSpokesGiant S-R3 wheelsetTiresGiant S-R3 AC, 700x25c (28mm), foldingExtrastubeless preparedWeightThe most accurate way to determine any bike's weight is to have your local dealer weigh it for you. Many brands strive to list the lowest possible weight, but in reality weight can vary based on size, finish, hardware and accessories. All our bikes are designed for best-in-class weight and ride quality.