€1749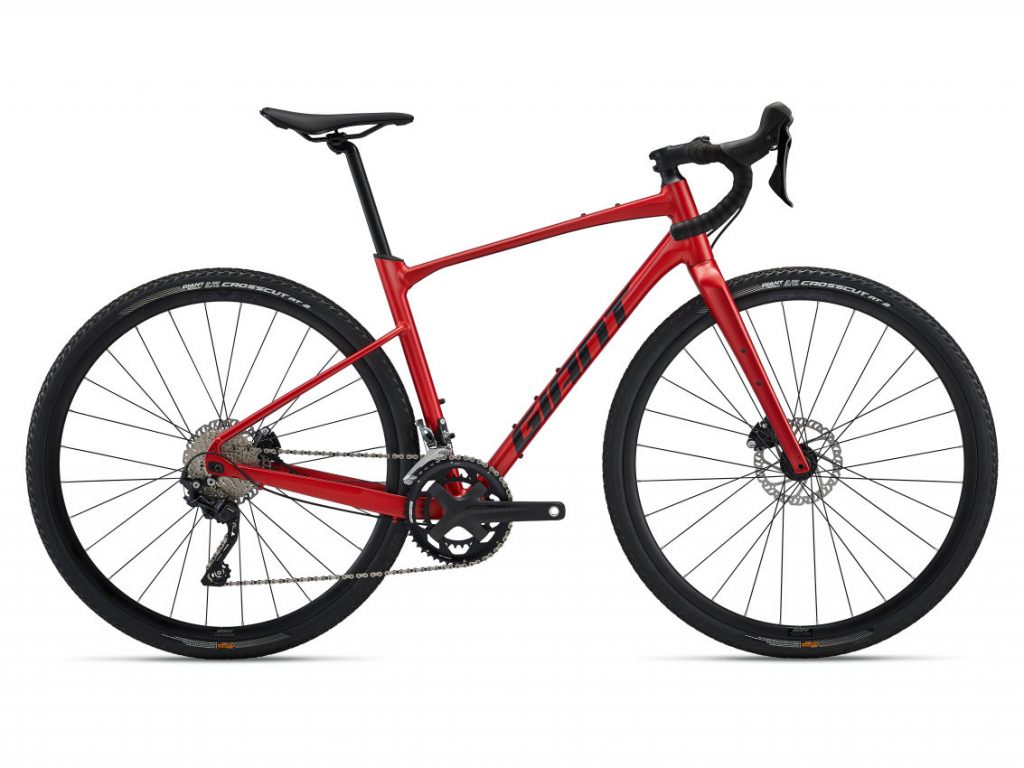 RIDE ROADS, GRAVEL OR DIRT WITH THIS ALL-NEW ALUMINIUM ALL-ROUNDER. A COMPOSITE FORK GIVES IT A SMOOTH RIDE, AND A FLIP CHIP LETS YOU ADJUST WHEELBASE AND TIRE CLEARANCE.

Frame is designed with endurance positioning and shorter chainstays for precise handling, agility and control. A longer reach, shorter stem and lower bottom bracket drop improves stability on rugged terrain.
SizesS, M, M/L, L, XL
ColoursGrenadine
FrameALUXX-Grade Aluminum, 12x142mm thru-axle, disc, flip chip dropout
ForkAdvanced-Grade Composite, full-composite OverDrive steerer, 12mm thru-axle, disc
ShockN/A
HandlebarGiant Contact XR D-Fuse, 31.8mm S:42cm, M:44cm, M/L:44cm, L:46cm, XL:46cm
GripsVelo cork tape with gel
StemGiant Contact, 8-degree S:60mm, M:70mm, M/L:80mm, L:80mm, XL:90mm
SeatpostGiant D-Fuse, alloy, 14mm offset
SaddleGiant Approach
PedalsN/A
ShiftersShimano GRX RX-400, 2×10
Front DerailleurShimano Tiagra
Rear DerailleurShimano GRX RX-400
BrakesShimano GRX RX-400 hydraulic, Giant MPH rotors [F]160mm, [R]160mm
Brake LeversShimano GRX RX-400 hydraulic
CassetteShimano HG500, 11×34
ChainKMC X10 with Missing Link
CranksetFSA Omega Adventure, 32/48 S:170mm, M:172.5mm, M/L:172.5mm, L:175mm, XL:175mm
Bottom BracketFSA Mega EXA, BSA
RimsGiant S-X2 Disc wheelset
HubsGiant S-X2 Disc wheelset
SpokesGiant S-X2 Disc wheelset
TyresGiant CrossCut AT 2, 700x38c, tubeless
ExtrasFactory tubeless set up, 53mm max tyre size in "long" flip chip position, 42mm max tire size in "short" flip chip position
WeightThe most accurate way to determine any bike's weight is to have your local dealer weigh it for you. Many brands strive to list the lowest possible weight, but in reality weight can vary based on size, finish, hardware and accessories. All our bikes are designed for best-in-class weight and ride quality.