€519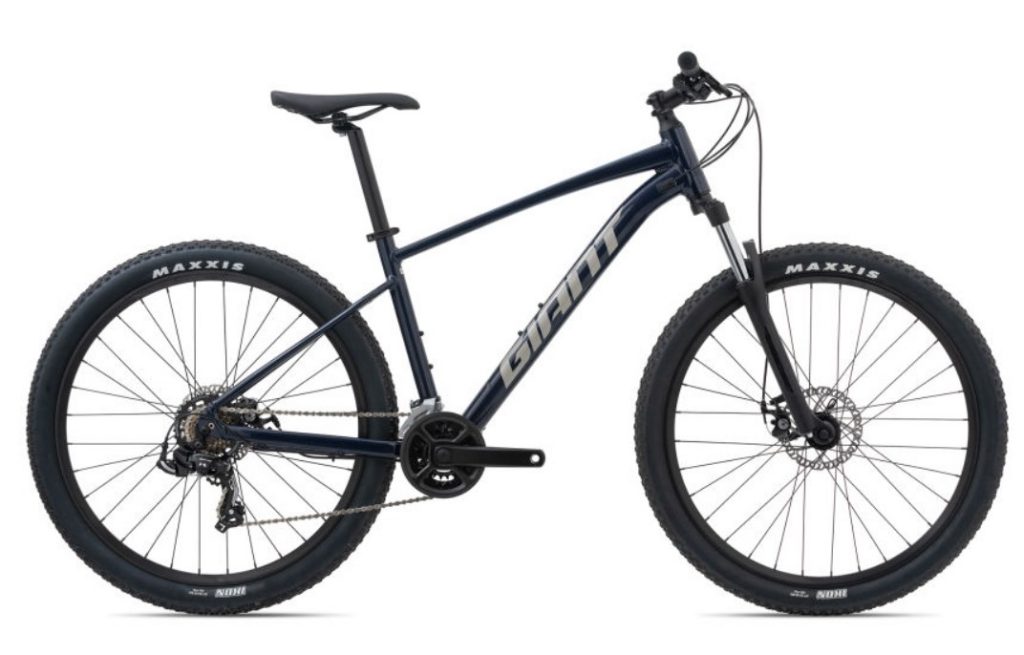 Get a feel for the trail with this all-new aluminium hardtail made for aspiring singletrack riders. It features stable, fast-rolling 29-inch or more-playful 27.5-inch wheels so you can push the pace on climbs and let loose on the descents.
Built on a new lightweight ALUXX aluminium frame that features classic hardtail design plus the balanced riding characteristics of either larger diameter 29-inch or 27.5-inch wheels, Talon is a great choice for XC or light trail terrain. The frame geometry is specifically designed to adapt to its respective wheel size and either an 80mm or 100mm suspension fork (depending on frame size). It's a confident ride that's perfect for ambitious riders who want to take their off-road skills to the next level.
ColoursGloss Eclipse
FrameALUXX-Grade Aluminium, disc. Compatible with fenders & kickstand
ForkSR Suntour XCE coil spring, 100mm travel (80mm S/XS)
ShockN/A
HandlebarGiant Connect Trail, 780×31.8
StemGiant Sport, 7-degree
SeatpostGiant Sport, 30.9
SaddleGiant custom
PedalsMTB caged
ShiftersShimano SL-M315
Front DerailleurShimano Altus
Rear DerailleurShimano Tourney
BrakesTektro TKD 172, mechanical
Brake LeversRS360A
CassetteShimano MF-TZ500, 14×28
ChainKMC Z7
CranksetProWheel forged, 22/36
Bottom Bracketcartridge
RimsGiant GX03V 29 or 27.5, alloy, double wall, 21mm inner width
Hubs[F]Giant Tracker Giant Sport QR, loose ball [R] Giant Tracker Giant Sport QR, loose ball
Spokesstainless, 14g
TyresMaxxis Ikon 27.5 or 29×2.2, wire bead (max tyre width possible: 2.4″)
WeightThe most accurate way to determine any bike's weight is to have your local dealer weigh it for you. Many brands strive to list the lowest possible weight, but in reality weight can vary based on size, finish, hardware and accessories. All our bikes are designed for best-in-class weight and ride quality.